Postage, Payment Privacy & Cookie Info
No payment details are handled by Julie Hooker and are instead handled by third party - Paypal. They are well known market leaders in the online payment industry and offer secure online payment. If you require any more information feel free to checkout their website. You can be sure that you will be safe shopping at Julie Hooker Textiles.
How to pay:
We use Paypal to process our credit card payments online so you know you are in safe hands and don't worry - you don't need a Paypal account or sign up for one, you can just enter your card details to pay on Paypal's secure server by just clicking on the buy now button and clicking continue next to the 'Don't have a PayPal account?' heading - See below: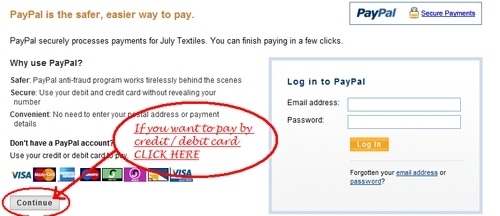 FREE STANDARD ECONOMY POSTAGE TO ALL UK ADDRESSES
Postage rates for Europe
FREE POSTAGE ON ORDERS OVER £150 (Exc. p&p)
Heavy orders will be sent in more than one consignment.
Postage rates for the rest of the world
FREE POSTAGE ON ORDERS OVER £200 (Exc. p&p)
Heavy orders will be sent in more than one consignment
The Small Print!
About Us: Julie is completely dedicated to great customer service. If you have any suggestions or comments please email us at [email protected]
Delivery Schedule

We deliver your order as soon as possible. We will normally send your order to you in 2 working days . International orders are generally received in under 12 days. Should an item be out of stock we will send the rest of your order straight away and forward on the missing items ASAP. If the item is completely unavailable we will in form you straight away and refund the item immediately
Credit Card Security

All credit card details are take on a secure browser. We use eternal secure payment providers so No details are kept by us
Reaching Us: If you need to reach us, the easiest and quickest way is via the contact us page, you can email us at: [email protected] You can also write to us at Julie Hooker Textiles, The Old Chapel, Petworth Road, Wormley, Godalming, Surrey, GU8 5SE
Our aim is to supply products of the highest quality.
The purchaser shall be held responsible for determining the suitabilty of these products for his/her purpose. Goods which prove to be defective through faulty material or workmanship must be returned for credit or replacement. We shall not be held liable for any consequential damage or loss incurred in the use of these materials.
Privacy & Cookie Policy:
July Textiles and Crafts do not disclose buyers information to third parties.
Cookies
What are cookies?
Cookies are very small text files that websites install on visitors' devices for a number of reasons, such as to enable shopping baskets to work correctly and, at the other end of the spectrum, to allow advertising to become more targeted and personalised.

Cookies cannot harm your device at all, and they can make the internet incredibly easy to use, but obviously it's only fair that it should be up to the visitor whether they accept these cookies or not. All Internet browsers, such as Google Chrome and Internet Explorer, have an optional setting to disallow these cookies, but it's felt by legislators that greater education of web users about cookies and what they do is required, especially in an age in which online privacy is becoming more and more significant. This is why the EU Cookies Law has come into place.
What is the new EU Cookies Law and why is it needed?

The EU Cookies Law (officially known as the e-Privacy Directive) is a European law that was passed in Europe in 2011 but only came into force in the UK on May 26th 2012.

From this date, websites which include features that place cookies on a visitor's device must advise the visitor that this is occurring.
The law was designed to stop privacy invasion and the tracking of the identity of visitors on a mass scale, particularly by large organisations who may be attempting to collect swathes of information about their visitors' browsing habits without their knowledge. The law also aims to ensure that the public are more aware of cookies and what they do.
Cookies on this site:
This website sets performance cookies. These cookies collect information about how visitors use a website, for instance which pages visitors go to most often, and if they get error messages from web pages. These cookies don't collect information that identifies a visitor. All information these cookies collect is aggregated and therefore anonymous. It is only used to improve how a website works.
This website also sets targeting cookies. These cookies are used to deliver adverts more relevant to you and your interests. They are also used to limit the number of times you see an advertisement as well as help measure the effectiveness of the advertising campaign. They are usually placed by advertising networks with the website operator's permission. They remember that you have visited a website and this information is shared with other organisations such as advertisers. Quite often targeting or advertising cookies will be linked to site functionality provided by the other organisation. They are used for the Facebook 'Like', twitter and Google '+1' buttons.
Returns Policy

Returns Policy
Please contact Juie Hooker Textiles to let us know you are returning an order. We will then issue you with a returns number
If for any reason you are unhappy with your purchase, you can return any item to Julie Hooker Textiles in its original condition within 14 days of the date you received your order. The goods which are returned must be unopened and unused (with any tape, fastening or shrink-wrap intact, this will act as proof of non usage). A full refund / exchange will be given on receipt of the item's being received by us, as long as the item's are in the exact condition in which they were sent out. If any seals have been broken, the item will be classed as damaged on the customers behalf. Any returns received after the 14 day period will not be re-imbursed. You can however have the option of your items being re-sent to you (postage to be paid by the customer).
PLEASE NOTE: We can only accept the return of opened goods if they are faulty or an order error on our behalf. Postage on returns of faulty or packing error will be paid by Julie Hooker Textiles. No other delivery service charges will be paid for by Julie Hooker Textiles at any time.
By Law
By law, you also have the right to withdraw from your purchase of an item within fourteen working days of the day after the date the item is delivered to you.
How to Cancel or Return Items
To cancel your purchase during the 14 day cooling off period or to return unopened / faulty items, please contact us in writing or via email to be given a returns number. Please pack any unopened item securely and send it to us with the number we have given you clearly displayed on packaging. The goods should be back at Julie Hooker Textiles within 14 working days of you receiving your order. Items will not be refunded without an Returns number. This will be calculated by ourselves as 16 working days from the date we dispatched the order to you. We reserve the right to use the Julie Hooker Textiles' calculations in this instance.
The return address is:
Julie Hooker Textiles
The Old Chapel

Petworth Road
Wormley
Godalming
Surrey
GU8 5SB
Email: j[email protected]

For your protection, we recommend that you use a recorded-delivery service as we can not re-imburse your account without receiving the items back first.
Once the items have been returned and checked, only then will we credit your account. We will refund the purchase price of the returned item including postage but not packing.
For more information on your right to withdraw from your purchase within the seven working day cooling-off period, visit the Department of Trade and Industry's Web site at: http://www.dti.gov.uk/ccp/topics1/guide/homeshop.htm#cooling
Other Statutory Rights
For more information about your other statutory rights, please visit the Department of Trade and Industry's Consumer Gateway Web site at: http://www.consumer.gov.uk/consumer_web/shopping.htm#4
International buyers: Please note buyers are responsible for additional costs that may apply such as duties, taxes and customs clearance fees.